2019 Kibo Cup
Organics Build Contest
21 December 2019 through 4 January 2020
Contest opens at 10:00 EST / 13:00 GMT and will last 14 days

mc.buildersrefuge.com

on version 1.12.2
/warp kibo
Winners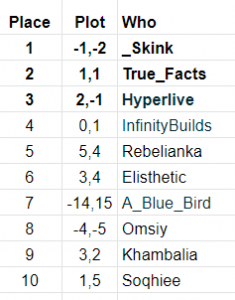 Overview
The Kibo Cup is a collaboration between Kibo x Builders Refuge to promote excellence in building and further the development of the community. We are launching our first contest with hopes to continue on a yearly basis to bring in new players interested in the building scene, reignite the ideas of older players, and to support incredible projects created within the community.
Theme: You*
The theme for this contest will be about You. In short, what are you passionate about? What motivates you through your thought process and mindset? Where do you take inspiration from and what influences you? How has life shaped you, and how have you shaped life around you? How can you tell your personal story through this medium? Where do your thoughts take you? 
*Note: This theme is extremely broad and open, and therefore judging will not be based on the accuracy of self reflection, but rather the accuracy of your execution and what ideas you are conveying to the audience.
Post Contest
Awards of $800 to be spread across the top 3 plot entries in the following distribution:
First – 50% of the prizepool ($400)

Second – 30% of the prizepool ($240)

Third – 20% of the prizepool ($160)
Joebricksy will be available to render the top 10 plots (free for the contestants).
Sponsors
Special thanks for those who have contributed to the prize pool, making it the largest first place prize ever awarded at a contest hosted at Builder's Refuge.
Judges
Rules and Info
Kibo is an Organics community, and therefore organics will be a central theme to this contest; however architecture may play a secondary role in your project. This must be emphasized – Organics are central to this contest and the greater portion (70%+) of your piece must be presented through organics. This must be clear in your contest plot and points will be deducted if the plot is overwhelmingly architecture based.
The contest will run for two (2) weeks from December 21st to January 4th. The judging phase will start directly after, and end within 5 days.

301×301 size plot (Contestants do not need to fill the whole plot completely, however it should be clear what space is used).

Two (2) plots can be claimed. One for grading, the other for asset creation. (use /plot auto or /plot claim)

Solo Building only.

Contestants are recommended to add a short description about their project to their plot. (use /plot set greeting <text>)
Grading
Judges will grade on three forms of criteria – Technique, Creativity, and Clarity.
How well was the piece executed through design, composition and technique? How consistent is the technique? Does the creator show control of the medium? 
Does the piece show imagination, individuality, originality? Has the creator shown innovation? How has the creators creative interpretation affected their implementation of technique?
Does your piece convey a message or portray the theme clearly? How were aesthetics and practicality balanced? Does the creator show understanding of the theme?
*Note: Judging will be very open to various interpretations of the theme, however it must be clear in what light you are portraying the theme. Failure to articulate your ideas will result in a loss of points. Contestants are recommended to add a short description about their project to their plot for further articulation of their ideas.